NEWS
Yvonne Bakkum to speak at FundForum International (June 24)
April 15, 2019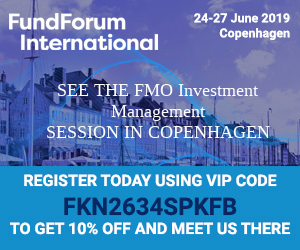 FundForum International is celebrating its 30th year as the world's leading event in global investment management. With 1500+ attendees it will bring together over 750 C suite key decision makers from global asset management and over 350 asset owners, fund buyers and leaders of wealth management, plus next generation innovators and experts to determine what happens next, who to partner and why the next era of growth will be very different.
The FundForum event is preceeded by a one day all-day Summit on ESG in the Portfolio - Managing risk, Finding opportunity. The most interesting panel of that day will be right before lunch and will give you something to chew on: Impact and the SDGs - A look at impact investment analysis across Europe. Our very own Yvonne Bakkum, CEO of FMO Investment Management will be joining this particular panel to provide insight and share experiences.


About this panel: The next evolution: Impact and the SDGs – A look at impact investment analysis across Europe
Hear how asset owners and fund selectors are implementing the SDGs into their own strategies, how they are currently working in portfolios and how impact is being measured using the SDGs. Plus, gain insight into the UNPRI strategic plan and the impact investment market outlook.
Join the panel on Monday, 24 June 2019 12:15 - 12:45
The summit takes place on Monday the 24th of June. The regular FundForum International event lasts from 25 till 27 June and is held at the Bella Centre in Copenhagen.
Find out more about fundforum-international.