A landlocked country bordered by China to the south and Russia to the north, Mongolia stretches out over 1.5 million square kilometres, yet is home to just over 3.2 million people. It endures extremely warm and cold seasons, with mountains in the north and the Gobi Desert towards the south. Although roughly half of the country's population lives in the capital Ulaanbaatar, much of the country's economy is fuelled by more rural activities such as herding, agriculture, or the mining industry (the latter of which makes up over 80% of the country's exports).
Even though over 1 million people live a nomadic lifestyle,it's estimated that nearly every Mongolian over 14 has a bank account. (It's a sharp increase from the estimated 78%in 2011.) Many families open bank accounts with banks such as Khan Bank or the State Bank for their children, in order to receive the government-provided child allowance.Digital banking is supported by a mobile telephony network,allowing virtually all Mongolians to be connected to the banking sphere—thanks in large part to Khan Bank.
Since 2019, Mongolia's economic recovery has stalled somewhat, in part because of geopolitical tensionsand COVID-19, combined with Mongolia's economic dependence on mining.
Unlocking innovative finance for the unbanked
Khan Bank is the largest commercial bank in the country,reaching an estimated 70% of families through its 545+ branches across the country. Their services are aimed at offering banking and access to finance services for Mongolians living in more rural or remote areas.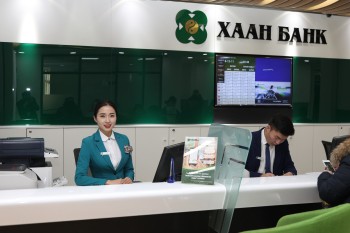 While their main focus is on individual banking (comprising nearly half of their portfolio), today, a 38% of their services are targeted at (M)SME enterprises. Their success is due in no small part to their early adoption of mobile and digital banking in the past years, befitting with the country's relatively young population needing modern banking solutions.
Meanwhile their SME portfolio has grown more than expected, and their Green portfolio remains on track in line with the funding disbursed. In 2022, their focus has been on improving customer centricity (for example, through CRM- and analytics-powered customer experiences through various channels) and overall business and portfolio growth. Additionally, Khan Bank has set their gaze on going beyond banking, offering an all-in-one platform,and sharpening their value offerings, branding, and management.
The FMO Loans
Khan Bank's history with FMO dates back to 2009, with FMO providing financing to Khan Bank throughout the years. More recently, FMO arranged a USD 100 mln syndicated loan in 2018, followed by arranging a USD 120 mln loan 3 years later—the largest ever for Khan Bank.They are a reliable and well-performing client.