A country of rich history
Turkey—now officially referred to as the Republic of Türkiye—is a transcontinental mountainous country over twice the size of Germany. Home to some of the earliest consistently settled regions and inhabited by ancient civilizations like the Persians and Hittites, Türkiye is steeped in rich history. It was a global power to be reckoned with when it was the Ottoman Empire, which was partitioned in the early 20th century.
Though it experienced strong economic growth at the start of the 21st century, Türkiye's GDP began to stagnate in 2013, and the country has more recently experienced increased financial instability and high inflation. A founding OECD and G20 member, Türkiye's economy today remains one of the larger ones in the world, and is a key producer of agricultural products, textiles, consumer appliances, electronics, and a broad range of manufacturing activities. However, these industries can significantly contribute to GHG emissions—Türkiye emits over 500 million tons annually—which necessitates action to minimize the effects of climate change, many of which are already affecting the country.
Leasing with a purpose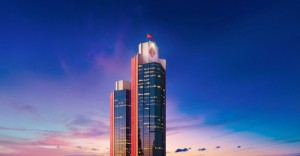 Ak Kinansal Kiralama A.Ş. (or Aklease) is one of the top leasing subsidiaries of Akbank T.A.S., one of the largest private banks in Türkiye. They lease a wide range of assets, such as machinery, healthcare equipment, and real estate. With a strong market share, they provide financial support to parties active across the corporate, commercial, and SME segment.
Aklease primarily finances equipment in the textile and natural resources sector, although they are also active in sectors such as manufacturing, construction and transportation. With a strong focus on customer service, Aklease can focus on client retention and acquisition in a competitive market. Combined with using the client base and resources of their parent company, Aklease has demonstrated notable financial stability over the years.
More significantly, Aklease clearly shows their commitment to climate action. In the past years, they have grown their focus of renewable energy (RE) and energy efficiency in their lease portfolio. In 2020 they launched an ECOLease program (the first and only sustainability-linked product in the Turkish leasing market), aimed at leases in the RE/energy efficiency sector. Through these products, Aklease delivers impactful value, not only to their clients, but for the country at large.
The FMO Loans
Aklease became an FMO client in 2017, when FMO arranged a USD 110 mln syndicated loan facility with a wide variety of investors. In 2020 and 2022, FMO provided two separate USD 25 mln facilities—the latter of which was marked 100% Green—to support Aklease's ambitions to become one of the leading leasing companies in the green markets.