Locked away in the middle
One of the only two landlocked countries in South America (the other being Bolivia), Paraguay is a small country, home to just over 7 million people—almost half of whom live in Asuncion, the country's largest city and capital. The country has been controlled by various authoritarian governments since its independence from Spain, but in 1989 entered a new era of democracy. The country faces high levels of poverty—peaking at 57.7% in 2002, dropping to 26.9% in 2020. Even so, Paraguay has been ranked one of the world's happiest countries. Aside from that, since all its electricity is hydropower generated, Paraguay's electrical systems is one of the world's cleanest.
Paraguay's economy is primarily dependent on agricultural products, which make up about a third of its GDP. Within the field, Paraguay ranks as the 6th largest producer of soybeans and 4th largest exporter. In 2003, it was estimated that soybeans made up 35% of the country's total export revenues. Accounting for approximately 20% of the workforce employment, so soybeans play an integral role in the Paraguayan economy.
Redefining the Paraguayan agricultural sector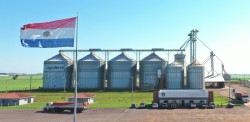 Founded in 1993, Agrofertil S.A. is Paraguay's leading agricultural inputs distributor covering all the soybean producing area in the country. The company offers a comprehensive set of agricultural and agronomic products and services to over 2,100 smallholder farmers: financing, technical assistance, storage, and more. Agrofertil also provides pre-harvest financing to ensure farmers have sufficient access to finance. Most local banks focus on supporting larger farmers. However, Agrofertil's role does not stop there.
As a key player in the Paraguay agricultural sector, Agrofertil functions as a knowledge source for farmers on best agricultural practices. As a smart agriculture proponent, Agrofertil can consult and advise farmers on initiatives such as technological innovation, input handling, sustainable production, and more efficient land use. This translates into an immediate benefit of higher yields, productivity, and income for the farmers, while also contributing to the long-term vision a more sustainable agricultural sector.
Has Agrofertil's strategy paid off? It would appear so: in the last several years, it has recorded strong profits, has continually outperformed its projections, and has experienced a strong and steady growth thanks to its steady client base.
The FMO Loan
Agrofertil has been an FMO client since 2016, when FMO provided its first round of financing. The most recent round of financing was for USD 15 mln and USD 18 mln, where FMO increased its commitment towards the company. FMO, through the loan to Agrofertil, directly contributes on the agriculture sector's continued development.