Remote, yet connected
Mongolia is one of the least densely populated countries in the world, with much of the population living in remote rural areas. Many still follow a nomadic or herder lifestyle that has not changed for centuries. For those especially, the realities of life in Mongolia are harsh; with monthly temperature variations of 45ºC not uncommon and no city or town within a day's travel for most people. Yet since a few years, more and more Mongolians have a bank account. By now roughly 80% of the population have access via digital banking, supported by a widespread mobile telephony network, which serves as its backbone
Reaching out to the rural unbanked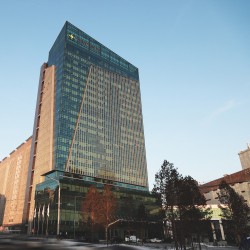 Khan Bank, frst established in 1991 as the Cooperative Agricultural Bank, is the largest commercial bank in Mongolia. Khan Bank has made it a key priority to provide fnancial services to people living in remote rural areas that would otherwise lack access to banking services. At least 5% of the portfolio is dedicated to small or micro-entrepreneurs; mostly families involved in the production and sale of agricultural products. Approximately 67% involves services to retail customers; individuals.
Khan Bank has been able to become the country's largest commercial bank by pioneering mobile banking in 2007 and embracing digital banking in 2013. While it serves a huge number of customers predominantly via digital and mobile services, it has more than 530 branches around the country, servicing over 78% of country's 3.2 million inhabitants. It is also making considerable inroads into the micro, SME and
corporate banking segments and intends to grow this part of its business further.
FMO Loan

Khan Bank has been an excellent FMO client since it frst took out a loan facility in 2009. In 2018 FMO arranged a USD 100 mln syndicated loan and most recently in 2021 FMO arranged a USD 120 million loan, the largest in the bank's history.
As part of a fnancial sector-wide initiative to upgrade environmental and social standards led by the Mongolian Banking Association, FMO will also support further initiatives to strengthen Khan Bank's environmental and social management system outside the loan facility. The bank has a functioning E&S Management System in place developed in the past years with the support of international lenders.
In perspective
Mongolia relies heavily on commodity exports. Its once fastgrowing economy experienced a slowdown as a result of the decline in commodity prices since 2015. GDP growth was as low as ~1% in 2016, but currently stands at 6.9% again. While the economy was slowing down the IMF instigated Mongolia's central bank to appoint an independent auditor to review the asset quality of the whole Mongolian banking sector. The review, which took place in 2017, caused unrest in the sector and created reluctance from investors or fnanciers to support banks before the review ended.
As FMO and Khan Bank have a longstanding partnership FMO was confdent that the bank's review would be acceptable and proceeded with the preparations for a new loan facility. The loan also signals FMO's own commitment to the Mongolian market, and the transaction is expected to help pave the way for further funding from other international fnancial institutions. As expected, Khan Bank had a positive review which e.g. also led to no requirement to adjust the Bank's loan loss provisioning charges.
Khan Bank uses the FMO arranged loan to continue to provide fnancial services to people that would otherwise lack access to banking services, fnancing micro and SME sub-loans. To achieve successful distribution Khan Bank will continue to develop its ability to reach the country's most remote regions, and to upgrade its mobile banking and digital banking capabilities.
[updated Dec 2021]